Marvelous Miniatures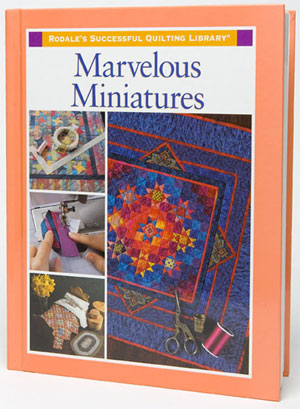 Marvelous Miniatures
Get enthralled with working small! Little quilts are big on charm and appeal, and with help and inspiration from our expert teachers and quilters, you'll find out how easy it is to adapt your quiltmaking skills to a smaller scale. Once you try these ideas on for size, your miniatures will be the ones that make people ask, "How did she ever do that?"
Minis are simply irresistible. Here's how you can…
Create a quick little quilt with only a thimbleful of effort
Scale down a favorite quilt pattern to pint-size proportions
Piece with precision and appliqué with ease, no matter how tiny the pieces
Embellish with tiny stencils, embroidery stitches, and 3-D flowers
Customize quilts for dolls, teddy bears, doll furniture, and more
Use foundation piecing or English paper piecing for the ultimate piecing perfection
Learn easy tricks for binding and quilting minis
Fashion great little gifts from miniature blocks!
Produced and edited by Eleanor Levie
Sorry, this title is not available. Try amazon.com or barnesandnoble.com for a used copy.
Back