Creative Embellishments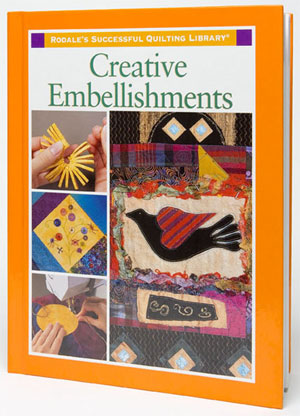 Creative Embellishments
Your step-by-step guide to creative embellishments

Transform your latest quilting project from merely fine to simply fabulous. Whether you're a novice or a veteran embellisher, the bounty of exciting options presented in this book is sure to change the way you quilt forever! Over 300 photographs and 36 illustrations show you how to add plenty of sparks and sparkle to your quilts—quickly and easily.

Inside this book you'll discover:
Secrets for using everyday objects as innovative trims
Fun and foolproof ways to customize fabrics with rubber stamps and machine embroidery
Heavenly methods for creating lacy appliqués
Timesaving and clever techniques for embellishing and quilting in a single step
Artful applications of buttons, beads, and charms
A gallery of expertly embellished Basket blocks
Funky fringe and other cutting-edge finishes
And lots of other, fresh, new ideas!
A Book of the Month Club (BOMC) - Crafter's Choice selection. 128 pages, $19.95
Back