workshop
Musing & Fusing: Small Art Quilts
Here's a fast, fun, and easy to loosen up and express your creativity! You'll learn about several different ways to compose a small work of fabric art—either an abstract or a folk-art pictorial. Fusible web and freehand cutting allow for spontaneity, improvisation, and delightful surprises in technique and results. Felt provides a cushiony background, filler, backing, and border.

No sewing or machine sewing is necessary, but quilters may wish to bring their machines and add quilting stitches to their compositions.

This workshop can be a half-day quickie or a full day immersion.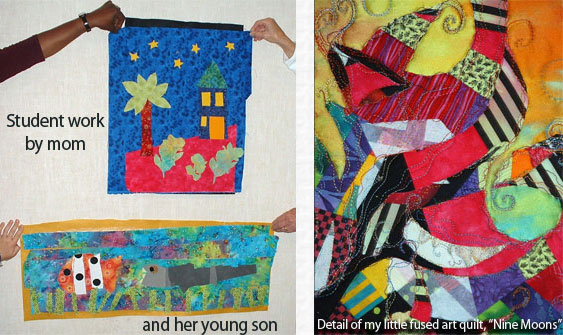 PLEASE BRING THE FOLLOWING TO CLASS:
Small amounts of fabrics (fat eighths or scraps): a multicolored fabric print you love, plus several coordinating solids, solid substitutes, hand-dyeds, geometrics and directionals such as stripes and plaids, dots, and more
9" x 12" felt in black or dark color to contrast with fabrics

2 yards of lightweight fusible web, such as Pellon Wonder-Under

Iron, old sheet or muslin for a padded pressing surface, iron cleaner

Rotary cutting supplies and scissors

Optional: sewing machine, darning foot, threads in assorted colors and types